Easy, quick and kid friendly recipes are always a win at our house and this Bubble Pizza is just that. This yummy recipe uses canned biscuits, meat sauce, cheese and whatever pizza toppings you like to use. Sounds pretty great, huh?! Did I mention that it's also kid friendly?! I've been making this since before my husband and I were married but now that we have kids and it's something they enjoy eating it makes me like it even more.
When I make this Bubble Pizza recipe I usually just use pepperoni but I've also used a pound of ground beef and/or sausage before too. The options are based on your personal pizza preferences. My husband would love it even more if I added mushrooms in it since he's a mushroom fan. This is a great meal to sneak some veggies into as well. My kids love this dinner and are even willing to eat the leftovers for lunch.
This Bubble Pizza recipe is easily adaptable. You can make whatever changes to your family's liking. If you want to use less sauce or double it that's fine. Like ground turkey? Add it in. Vegetarian style? Of course. Prepare it as you would if you were ordering or making your favorite pizza and enjoy! This pizza sauce is one of our favorites.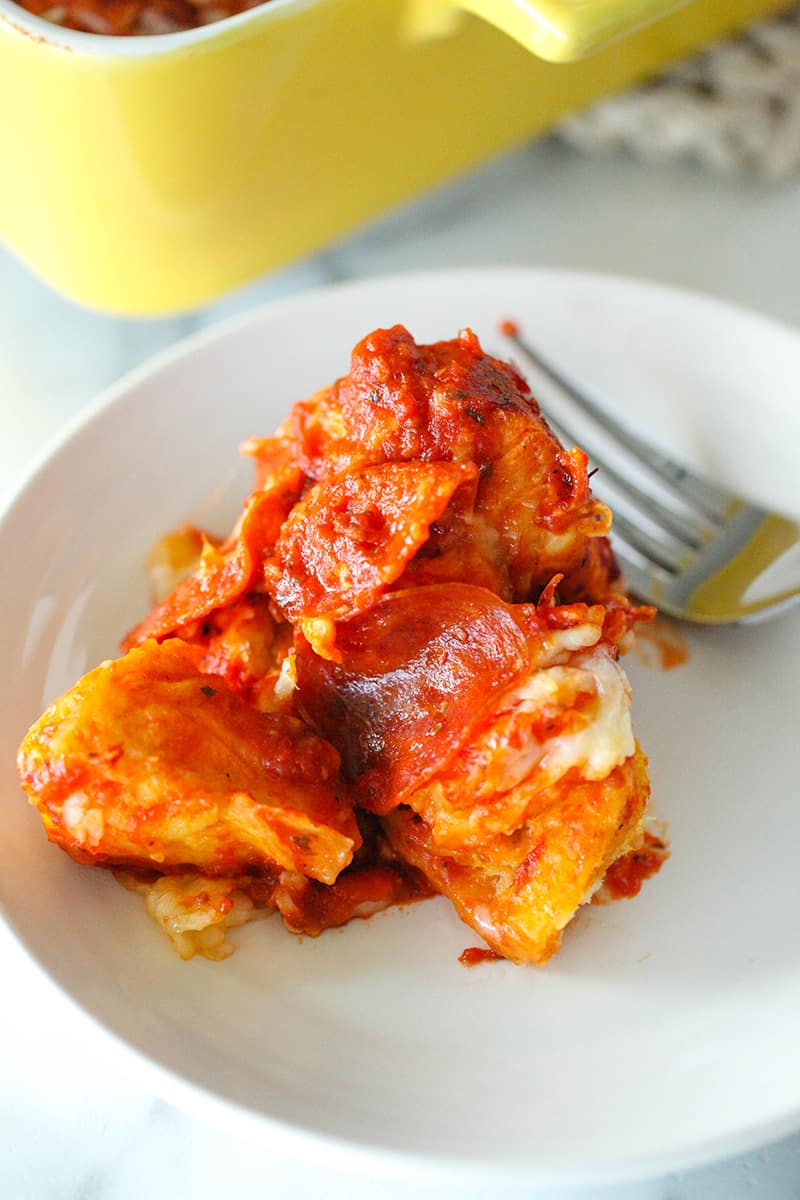 Print Recipe
Bubble Pizza
Canned biscuits topped with pizza sauce and sprinkled with cheese all baked together in a casserole dish.
Ingredients
1

large can refrigerated biscuits, cut into quarters

1

14 oz

Can pizza Sauce

1

cup

Cheddar Cheese

1

cup

mozzarella cheese
Instructions
Preheat Oven to 350 degrees

If adding any meat that needs to be cooked such as ground beef, sausage or chicken cook meat before adding to casserole pan.

Cut biscuits into quarters. Pour a small amount of pizza sauce into the bottom of a 9x13 baking dish.

Place cut biscuits on top of pizza sauce.

Pour remaining pizza sauce on top of biscuits.

Top with pizza toppings and cheese.

Bake for 30-40 minutes.
Check out my manicotti recipe for another Italian dinner option. Chocolate chip cookies are always yummy after a pizza meal.