Crispy French toast: Thick slices of texas-toast with an outer crunchy coating. You'll never go back to your usual french toast once you have tried this recipe.
Since it's Monday and I'm still thinking about the weekend I thought I would share one of our favorite weekend breakfasts. We usually have oatmeal, eggs or peanut butter toast during the week and something a little sweeter for the weekends. I love this recipe for crispy french toast. It makes a good breakfast into a great breakfast! The crispness on the bread gives a surprising texture that I am not use to in french toast. It's a game changer for sure!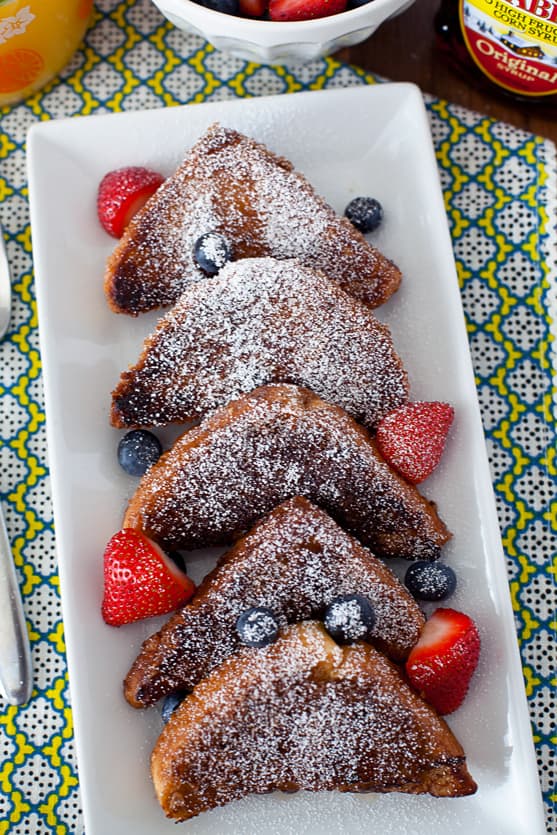 I know it may seem like a lot of trouble to make breadcrumbs with brown sugar and cinnamon all for a weekend breakfast, but trust me....You will be so glad that you did because it taste delicious. I just throw a piece of bread into my food processor, which is our, Ninja, I sprinkle some cinnamon and brown sugar and the hit the pulse button. It is done in about 2.5 seconds! I then pour the crumb mixture into a smaller bowl that the bread will fit into so I can get the crunchy part onto the bread. I've also sprinkled the bread with the crumb mixture and that works too.
I've never tried to use the store bought breadcrumbs for this but I don't see why they would not work.I crispy layer is difficult to see in the picture, especially with my dusting of powdered sugar.However, I promise it is there and you can definitely taste the difference.
So, what are you favorite weekend breakfast indulgences? Just leave me a comment because I would love to know!
Print Recipe
Crispy French Toast
Ingredients
8

slices

of hearty bread. I used Texas-Toast but Challah would be good too

1 ½

cups

whole milk

warmed

3

large eggs

3

tablespoons

packed light brown sugar

plus 1 for the crumb mixture

2

tablespoons

unsalted butter

plus 2 tablespoons melted butter

1

tablespoon

vanilla extract

½

teaspoon

ground cinnamon

plus ¼ teaspoon for the crumb mixture

¼

teaspoon

salt
Instructions
Warm oven to 300 degrees.

Cut slices of bread in half.

Place on a baking sheet and place in a warmed oven.

Bake bread until almost dry throughout. The center should remain slightly moist.

Flip bread halfway, total time will vary but should be about 15 minutes.

Remove from oven and let cool.
For the crumb mixture
Use one slice of bread torn into pieces and place in a food processor bowl and add 1 tablespoon brown sugar and ¼ teaspoon cinnamon. Pulse until finely ground. Place in a bowl that the bread slices will fit into.

Whisk milk, egg, sugar, 2 tablespoons melted butter, vanilla, cinnamon and salt into a large bowl until well blended. Transfer mixture to a 13x9 pan.

Soak bread in milk mixture until saturated but not falling apart, about 20 seconds, per side.

While bread is soaking, melt butter in a medium skillet.

Once bread has soaked, place one side of the soaked bread into the crumb mixture and gently press down to allow the side touching the crumbs to get evenly coated.

Place crunchy side down into melted butter and allow it to get golden brown. About 3-4 minutes, use spatula to gently lift and make sure it does not burn.

Flip over and allow the other side to get golden brown.

Transfer to baking sheet and place in oven to keep warm until all the slices are toasted.

More butter will need to be re added to the skillet for the other slices to get golden brown.
Notes
For the crumb mixture you can either toast a piece of bread or use one not toasted. I have done it both ways and each way is deliciously good.
Adapted from The Cook's Illustrated